Home to racing's first grandstand in the 1750s and boasting 180 stables, York Racecourse is one of Britain's most prolific venues for horse racing worldwide and has hosted both Royal Ascot and The Ladbrokes St Leger.
The Business Challenge
York Racecourse experiences a lot of events and energetic activities, and so they decided to enquire about installing some track upgrades to their race course. They decided that their midcourse equestrian fencing needed renewal with safety as a priority. As a prestigious venue, York Racecourse had two key requirements:
An equestrian fencing solution that used no steel or metal above ground (non-metal ground fixing)
The racecourse fencing must be manufactured and installed before the start of May – their racing season
Implementing these specific requirements entailed identifying the best equestrian fencing solution on the market. This is where Duralock came in.
How Duralock Helped Enrich York Racecourse's Venue
At Duralock, we always offer our clients the most meticulous, effective and thorough experience. To resolve York Racecourse's issues and install an exceptional solution, we worked with them from the inception phase right through to installation and beyond.
Six months prior to the date of completion, we sat down with York Racecourse to discuss their needs. Liaising in person, we understood precisely what their requirements were and, from there, we worked in-house with their technical staff to provide a bespoke project plan. This included creating a customised racecourse fencing design, manufacturing of the product, supplying it to the client, and installing the made-to-measure equestrian fencing solution over a four-month period.
Why York Racecourse Chose Duralock's Solutions
As mentioned previously, York Racecourse had two key requirements that centered around material components and manufacturing timeframes.
From start to finish we provided York Racecourse with a bespoke solution – implementing a custom design for the client rather than a 'one size fits all' solution, which would not have satisfied their project needs.
An important factor that contributed to the client's timing requirements was the location of production and materials. All of our materials are produced in Britain which meant that we could supply and install the equestrian fencing solution within tight and specific time frames, adhering to the clear-cut requirements of York Racecourse. Local production also meant that we, and the client, didn't have to handle issues with securing products from international markets which can prolong wait times and cause issues if there are, for example, faults with the product.
Once the racecourse fencing was designed and manufactured, we called for the British Horseracing Authority (BHA) to trial and test it. We needed to ensure that the brand new bespoke solution was fit for purpose and gained the right approvals, so we organised at short notice some professional testing at Exeter Racecourse. The fencing solution was subsequently signed off by the BHA inspector.s. This additional procedure is included within our service offering.
Aside from the initial requirements set by the client, York Racecourse is also highly involved in environmental responsibility. They proudly operate with zero litter sent to landfill, and litter that cannot be recycled is digested and converted into electricity. In addition to this, York Racecourse's energy consumption has been reduced by 30% via effective building management systems. Sustainability is a concept that's also close to our hearts as our PVC fencing solutions are made from recycled materials.
The Results
York Racecourse has received overwhelmingly positive feedback on its fencing installation both from those who have seen the product in real life and via digital sources – locally and internationally.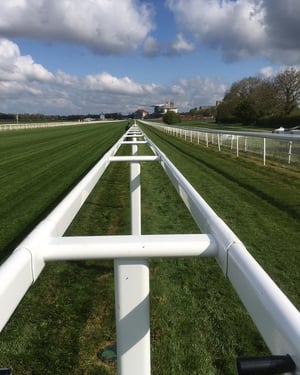 The client was personally delighted with their custom equestrian fencing and received some brilliant feedback which has been passed back to us. Not only that, the client was so happy with our bespoke racecourse fencing solution that they went on to order more Duralock products and are now part of our prestigious clientele.
Our mid-course quarter is available worldwide. To discover more about our midcourse product, click here.
At Duralock, we provide fencing solutions that are aesthetically focused without compromising on safety or robustness. We understand the importance of fitting grounds with fencing that has both a prestigious, luxury finish whilst also providing secure, reliable, up-to-standard solutions.
If you are a racecourse, training center or equestrian establishment interested in installing new fencing or upgrading your current solution, please get in touch here.